Triple Butter Soap
Made from olive oil, distilled water, coconut oil, sodium hydroxide, cocoa butter, shea butter, mango butter, castor oil, fragrance, mica.
Scentual Serenity handcrafted products are made in small batches, making it possible to accommodate custom orders. Email scentualserenity@gmail.com for more details.
See blog for more product details.
Blog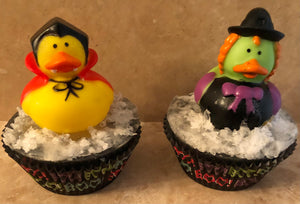 Get Your Ducks in a Row
Soap or bath bombs topped with rubber duckies make fun gifts! Pictured are Halloween Rubber Duckies nested in glow-in-the-dark confetti atop a cupcake shaped soap. Rubber Duckies are not intended for small children and do not float upright.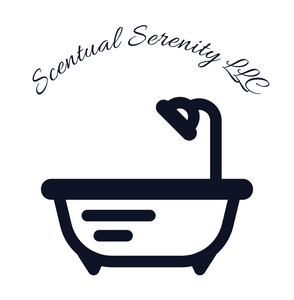 New Logo
Look for this logo at the posted events. Niagara Emporium will continue have the original sign displayed.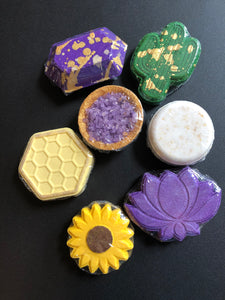 Bath Bombs Made with 3D Printed Molds
Most of the bath bomb molds used by SS are created by small businesses using 3D printers, which means SS can offer a wide variety of designs for holidays or themes. Don't see what you're looking for? Just ask. Because these molds are made from plastic filament, they are not suitable for molding soap. However, SS has several soap designs available that correspond with them.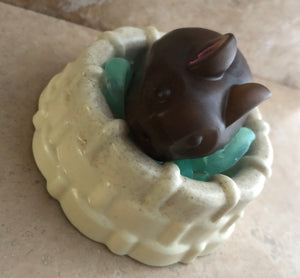 Customized Handcrafted Soaps
A variety of top-quality soap bases available for custom fragrance, coloring, extracts, and molding. Bases available: Basic, Goat's Milk, Shea Butter, Aloe Vera, Honey, Hemp Seed Oil, Cocoa Butter, Oatmeal, and Buttermilk. Many of these bases are white or have a hint of color which can affect final product. This is also true of fragrance oils. Please keep this in mind if you are requesting something specific.
Add customer reviews and testimonials to showcase your store's happy customers.

Author's name
Add customer reviews and testimonials to showcase your store's happy customers.

Author's name
Add customer reviews and testimonials to showcase your store's happy customers.

Author's name